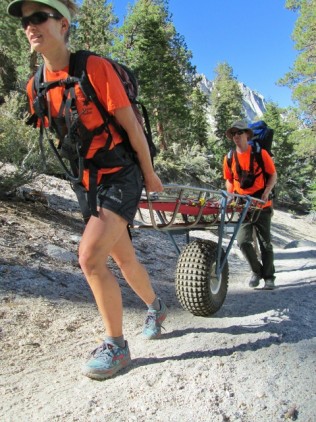 On June 18th 2013 Inyo SAR assisted a hiker with a sprained ankle on the Mt. Whitney Trail. The patient had OK range of motion in the ankle and minimal swelling and pain, but could not put weight on the ankle. After a full physical examination was performed, the team evacuated the patient. Initially, the patient was encouraged to attempt to facilitate her own rescue by using crutches and hopping out under her own power with support from team members. Crutches proved too difficult for the patient due to balance issues on the steep trail and physical fatigue.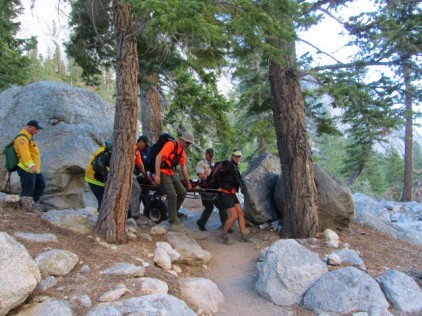 The team made the decision to load the patient into the wheeled litter to speed evacuation. The wheeled litter is an uncomfortable ride for the patient (despite all of our efforts to make it as comfortable as possible) and is also a bit hazardous for the rescuers due to trail obstacles and its ungainly nature. Fortunately, with our strong team and excellent assistance from CAL FIRE and an Inyo County Sheriff Deputy, we were able to evacuate the patient quickly and safely.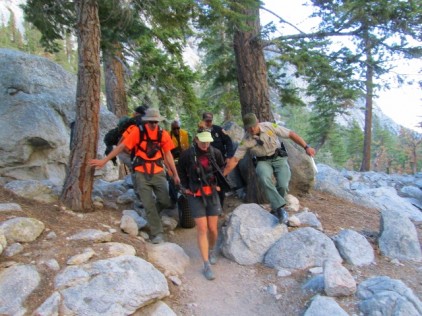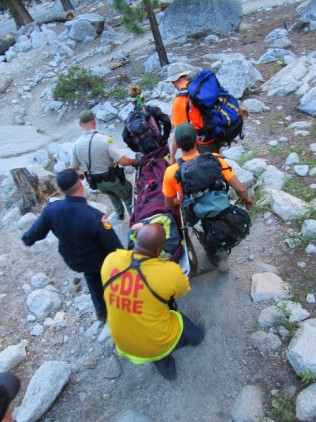 Hopefully the patient will be hiking again as soon as possible, with a new understanding of how challenging even a sprained ankle can be in The Wilderness.