On May 1, Inyo SAR was called out for a paraglider who had crashed above Wells Meadow on the Wheeler Ridge. The Reporting Party was a fellow paraglider who described the patient as having severe face trauma. Our team of 11 members was prepared to provide medical treatment for blood loss and possible airway complications. Upon our arrival at Wells Meadow we were greeted by several other agencies already on scene, most notably Cal Fire with a crew already on their way up the trail carrying C-Spine equipment. Due to the degree of steepness to reach the PT a helicopter had already been requested. The hike up to the PT was steep, loose climbing and took our team about one hour. On the way up Inyo SAR passed Cal Fire, making it to the PT as first on scene. Our examination revealed that the PT had minor facial trauma, most notably a missing tooth.
After a quick assessment showing the PT had an adequate airway, no major bleeding, and stable vitals, it was decided that he needed to be moved in order to get a better assessment and get him into a litter. He was partially wedged under a boulder which presumably stopped him from sliding further down to a near vertical drop of ~25 feet. We placed him in the KED device carried up by Cal Fire, and c-spine precautions were taken due to a complaint of pain in his lower cervical spine. He was then moved to a litter. The litter was then moved to a flat, safe area that allowed more room to accommodate the PT, first responders, and incoming helicopter. The PT was placed on O2 at 2lpm via nasal canula and a full head-to-toe assessment was done.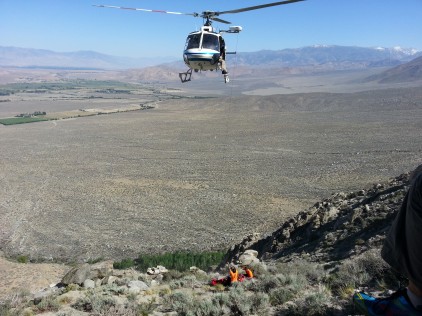 The CHP helicopter was tied up with training and required longer than normal for to reach us. Inyo SAR had approximately 5 hours on-scene time during which the PT remained stable and in high spirits, eager to get off of the mountain. Once the CHP helicopter arrived it lowered down a bag for airlifting the PT. The helo vacated the scene to allow us to package the PT for hoist. Once the PT was packaged the helo was called back and lowered a line to which the bag was attached, then hoisted the patient. The helo rendezvoused with Symons Ambulance at the base of the slope and the PT was taken to Northern Inyo Hospital.