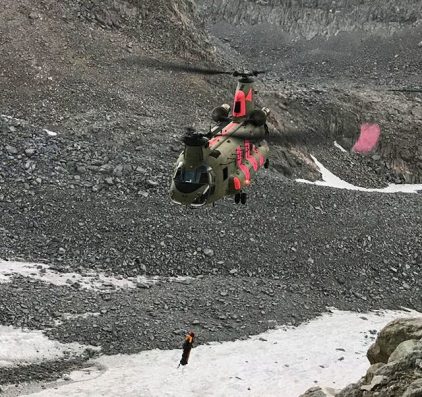 At 4:30pm on August 26th, two climbers were on a portion of the Palisade Traverse in the North Couloir of Thunderbolt Peak when the male of the party took a 300-foot tumbling fall suffering major trauma. The party had a PLB (personal locator beacon) which they activated. Sequoia and Kings National Park (SEKI) took the initial call, and CHP – Central Division Air Operations (H-40) was able to fly to the area and use a loudspeaker to ask the climbers if they needed help. The party flashed a headlamp to indicate that they were in need of help. This also confirmed that the party was on the eastern side of the crest, in Inyo County. Due to conditions, H-40 was not able to perform a rescue at that time.

Inyo SAR started planning a rescue operation overnight and initiated a response in partnership with CHP – Inland Division Air Operations in the morning. After initial recon, the flight crew reported horrendous flying conditions near the climbers that prevented them from getting anywhere close. After picking up an Inyo SAR member, the helicopter checked conditions on the top of the crest and found that they were able to insert the team member via hoist onto the ridge top at 13,800 ft. Five hours later, they had inserted 5 SAR members and gear at this location on the Palisade Crest.

SAR team members descended to the patient, initiated care, and began to prepare for patient packaging and extraction. Rockfall continued to be a hazard near the patient. The team lowered the patient onto the snow in the couloir and continued down past the bergschrund until reaching a place where an Army National Guard CH-47 (Chinook) helicopter out of Stockton could safely enter the area. The patient was hoisted into the helicopter just before dark. Team members then spent the night up on the mountain.
CHP Inland Air Ops responded the next morning and was able to extract the SAR members and the second climber two-by-two from the Sam Mack Meadow area. We cannot thank the air ops crews enough for their support and assistance!