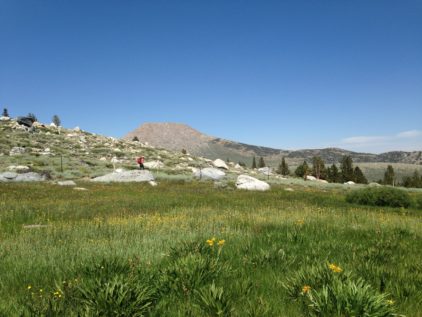 On the evening of July 18th Inyo County Sheriff's Dispatch was notified that Linda Solomon, a 61 year old woman from Irvine, CA could not be located by her hiking partners. The hiking party originally consisted of three members; the route was a two night trip from the Green Lake trailhead out of South Lake to the North Fork trail via Baker Creek. On the last day of the trip Mrs. Solomon started down the trail slightly earlier than her hiking companions; the starting point was Baker Lake. Mrs. Solomon and her hiking partners unintentionally took two separate routes from their camping spot resulting in the two hiking partners being on one side of Baker Creek and Mrs. Solomon on the other. The hiking partners spotted Mrs. Solomon on the opposite side of Baker Creek across a marshy area about a mile east of their previous night's camping spot. Both parties continued east but were unable to reunite. The hiking partners searched for Mrs. Solomon throughout the day, and when they were unable to locate her they hiked out via North Fork and contacted Inyo County Sheriff's Office.
A search and rescue mission was launched Wednesday morning. Two teams were sent in; one via Coyote Flats and the other through the Baker Lake trail via the Glacier Lodge trailhead and up North Fork. Aerial reconnaissance was provided by CHP H-82 out of Victorville. The Coyote Flat SAR team discovered a note around 2:00pm in an old abandoned cabin on the south end of Coyote Flat. The note stated, "Wed. noon. July 20. Linda Solomon was here." A note was left in the same place by a SAR team member instructing Mrs. Solomon to stay put if she comes back to the cabin, and that search teams will be back the next day. An additional clue that was discovered was a camera lens that was identified as Mrs. Solomon's; the lens was about ¾ of a mile from the cabin on a dirt road. Search teams concluded yesterday's efforts around 7:30pm.
On Thursday July 20th teams from Inyo Search and Rescue and China Lake Mountain Rescue Group began a ground search in the vicinity of Coyote Flat near and around the cabin, and the Baker Creek drainage out of Big Pine. Aerial recon for today's efforts is provided by CHP – Inland Division Air Operations.
At approximately 1:45pm Mrs. Solomon was located by CHP H-82, south-east of Baker Lake on a rocky bench between Baker Lake and Hidden Lake. She had positioned herself in area that was open and visible for aerial recon, and she was waving her jacket as the helicopter approached. Due to the rocky location the helicopter could not land, so ground search members responded to her location and guided her to a location accessible by a vehicle. Mrs. Solomon was in good health and good spirits, according to searchers. The SAR team successfully made it to the vehicle location around 4:30pm.
We would like to thank China Lake Mountain Rescue Group, Inyo Search and Rescue, and CHP – Inland Division Air Operations.