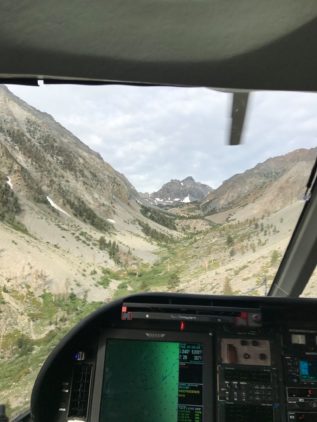 On Wednesday evening Inyo County Sheriff's Office received a 911 call from a group of backpackers reporting an injured hiker on the Baxter Pass trail near Independence. Three Inyo County Search and Rescue volunteers responded and hiked to the reported location, arriving at the patient at around 11:30pm. The patient, a solo backpacker in his forties, had slipped at a dangerous creek crossing and severely injured his leg, preventing him from walking or moving. He was found by the backpackers on a log in the middle of the creek, having waited over 36 hours for someone to find him and call for help.
Around midnight, Inyo SAR carefully moved the patient and stabilized his injury. The team and the patient remained there until dawn, when air support arrived from the California Highway Patrol Inland Division Air Operations H-82 helicopter. The helicopter crew expertly navigated within twenty feet of dozens of large trees, and successfully hoisted the patient over 100 feet into the helicopter for transport to the hospital.
Inyo SAR and the Inyo County Sheriff's Office would like to thank the CHP – Inland Division Air Operations crew for their professionalism and skill while aiding in the Baxter Creek mission. While finishing up this mission, the helicopter flew to the Horton Lake area to pick up a patient with a injured ankle.